Publisher: Hoover Ink, Inc.
Published: November 12, 2016
Genres: Romance, New Adult, Suspense
Purchase: Amazon

I wanted to read this book for some time now, but just got the chance to do so. As I am acquainted with the author's work, I went into this book with high expectations. Colleen did not disappoint. She delivered a disturbing but riveting tale. Too Late kept me glued to its pages from start to finish.
It tells the story of Asa, Sloan and Luke. Sloan goes to college and is Asa's girlfriend. Unbeknownst to Sloan, Asa is a drug dealer who carries out his trade on campus. When she learns of his extra-curricular activities she left, but unfortunate circumstances, orchestrated by him, led her back to his arms.
Luke, a law enforcement officer, who works undercover. His undercover name is Carter. His current assignment involves infiltrating Asa's operation aiming to put an end to business. He never counted on falling in love with the girlfriend of the very man's whose organisation he had infiltrated. Can he carry out his assignment effectively?
I admired Sloan. I found her character compelling. There may be persons who would have negative things to say about her choice to stay with Asa, but I get why she did it. Her willingness to put her brother's care above her physical and mental safety showed her selfless nature. Finding an alternative means of helping her brother seemed impossible. I admit there were a few times I wished she would fight back, but then I reconsidered knowing that to do so could prove to be more harmful.
Luke may be cute, but when it came to police work, he made stupid mistakes. I could probably blame his mistakes on the fact that he had fallen in love, but as a cop in a dangerous situation, he should never allow his emotions to dominate his thinking.
In my years of reading, I have encountered a few crazy characters but Asa proved the craziest of the bunch. The things he did to keep Sloan with him was creepy. He gets off on other people's fear and for him love is all about control.
The shocking revelation about Asa's past helped me to understand how he became the person he now, but I still did not like him. I felt sympathy for him as a child but there was none for the adult version. He may have been crazy, but he was very smart and that made him dangerous.
I enjoyed seeing Sloan and Carter together. He may not have been good at his duties as an undercover cop, but when it came to loving Sloan, he excelled.
There were some intense moments when they were together. Asa monitored her every move and so I feared for them whenever they were together. I kept wondering if Asa would catch them together and feared the outcome if he did.

Conclusion/Recommendation
The story took me on a nerve-wracking journey. It covered a myriad of disturbing topics that may not be for everyone. If you are turned off by abusive situations, then you may want to avoid this book. However, if you are like me and like stories that are dark and suspenseful then you will enjoy Too Late.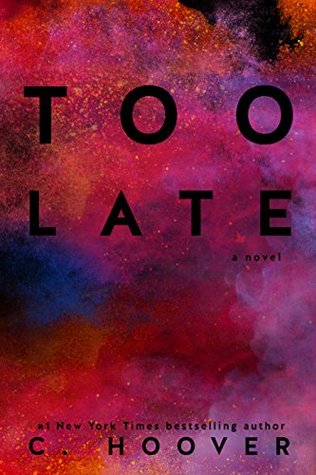 Sloan will go through hell and back for those she loves.
And she does, every single day.
After finding herself stuck in a relationship with the dangerous and morally corrupt Asa Jackson, Sloan will do whatever it takes to get by until she's able to find a way out.
Nothing will get in her way.
Nothing except Carter.
Sloan is the best thing to ever happen to Asa. And if you ask Asa, he'd say he's the best thing to ever happen to Sloan. Despite Sloan's disapproval of Asa's sinister lifestyle, he does exactly what he needs to do in order to stay a step ahead in his business. He also does exactly what he needs to do in order to stay a step ahead of Sloan.
Nothing will get in his way.
Nothing except Carter.
From New York Times bestselling author, Colleen Hoover, writing as C. Hoover.
This book was originally written as a side project by the author. It previously appeared on other platforms under the same title, but has since been slightly edited from its original content and formatted specifically for kindle. Please note that the content of this book is more graphic than the content of other books written by this author, hence the distinction between the names. This title is recommended for mature audiences only due to extreme graphic content. Recommended for readers 18+.
Warning: For readers who might be triggered by sensitive subject matter, this book contains scenes which depict rape, murder and other graphic violence.