LOST IN SHADOW by ANITA DEVITO
Series: Lost #2
Published by Entangled Publishing on 12 December 2016
Genres: Adult, Contemporary Romance, Suspense
Pages: 290
Format: eARC
Source: Netgalley
Reading Challenges: COYER Blackout
Private security entrepreneur Jeb McCormick is in over his head with his latest client. Not only is the painfully shy woman he's meant to be protecting a total knock-out, she's also his former Army buddy's sister. Helping her find the reason why anyone would ransack her house is demanding enough, but keeping his hands off her is proving to be the real challenge.
Carolina Walker wants a quiet life, thank you very much. She left intrigue and deception behind in
Washington D.C.
, never expecting it to follow her home to Bowling Green, Kentucky. When events happen that can't be explained away, help arrives in the form of the very attractive and muscular Jebediah McCormick. But as the tension escalates between Jeb and Carolina, so does the danger facing them…
Each book in the Lost series is a standalone, full-length story that can be enjoyed out of order.
Check out the other books in the Lost series:
Romantic suspense is one of my favourite genres, as such I jumped at the chance to read and review Lost in Shadow. The blurb hinted at exciting things to happen, which made me eager to read this one. I was pulled into the story from the moment I began reading. The suspense at the drama at the start was riveting and I eagerly turned the pages as I wanted to know how the events would unfold. Unfortunately, after a while, the story began to lose its momentum. I kept reading with the hopes that it would regain the momentum, but it did not. However, it should be noted that inspite of this there were areas I enjoyed and some that I had issues with.
I found the characters to be interesting. From the moment I was introduced to Carolina Walker, I knew that she was not the typical romance heroine. As a matter of fact, I kept wondering if she would be brave enough to own up to her feelings. She suffered from agoraphobia. It was not evident as to what triggered her condition, but it sure made her a prisoner for the past two years. It was clear that she was feisty, strong-willed and independent. It was a pleasure watching her attempt to move beyond her fears and reclaiming the life she once lived.
Jeb McCormick is a former Navy Seal who became sheriff and is now a private security consultant. He was contacted by Carolina's brother to find out who wanted to hurt her and in the process provide her with the necessary protection. I liked him from the start and as the story progressed, I was intrigued by him.
Their initial meeting did not go too well. However, as the story progressed, they developed a rapport. I enjoyed their banter. Carolina kept Jeb on his toes. Their chemistry was undeniable, but I had an issue with how quickly these two fell in love. It happened within the space of a week, which did not give them sufficient time to really get to know each other
The story began on an adrenaline high. I actually sensed the fear in Carolina at this point. I was on the edge of my seat and I kept hoping that no harm would have come to her. It kept a steady pace from thereon but at about 40% into the story, it began to drag. Then there were certain aspects I found confusing and areas I could not wrap my head around. I found myself re-reading certain scenes due to the confusing events such as the car chase. Then there was the case of the stalker. After the identity of the stalker was discovered, nothing was done about it. I found it weird, especially with the role the person played in the story.
Another aspect of the story that confused the heck out of me was the use of the name Clyde. Seriously! Here is a family where almost all the men in the family were nicknamed Clyde. This made it difficult to determine who was speaking to whom at times.
Personally, I felt that some of the scenes were not necessary. They added no value to the story if anything it helped to slow down the pace.
This story had the potential to be an adrenaline pumping, edge of your seat read. However, it fell short based on the above issues. Overall, this was a fair read, not my favourite, but ok enough for me to get some enjoyment from it.

Meet the Author: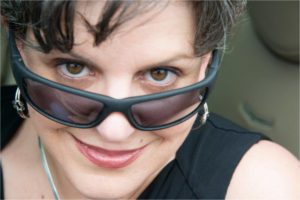 Anita's rapid paced storytelling style pulls readers into a parallel universe where mystery, mayhem, murder are the order of the day. Her stories are an addictive diversion, trading the heavy, gray world of real life for a fantastically colorful world where bad is good, and cool is smoking hot.
Raised on America's Rock Coast in Cleveland, Ohio, Anita was born while the river burned. Music, food and family shaped Anita's life and provide much of the fodder for her stories. Her love of mysteries and puzzle solving came from her Grandpa John, who introduced Anita to her first detective hero – Nero Wolfe. Food was as central a character in Anita's life as it was in Nero's, where Sunday dinner at Nonna's table was a command performance.
Anita has been writing scorching mysteries and suspense since 2006 with stories ranging on the heat index from a "nice spicy little pepper" to "pass a mop for my forehead, please." Check out tastes of Anita's stories and like her on Facebook. Anita is a member of Sisters in Crime and Mystery Writers of America.
What inspired me to become an author…
Anita DeVito
Corn fields. Miles and miles of corn fields. You see, about ten years ago, I lived in Cleveland, Ohio but had a project on the south side of Cincinnati i.e. Kentucky. I went there several times a month. Each way was 260 miles of corn fields (maybe some soy mixed in) and the City of Columbus, a wide, slow spot in a long road. Radio and CDs didn't entertain me for long, which made the long road, well, longer.
At the time, I had one brother working as a Cleveland Fire Fighter and another as a Probation Officer for the county. They seemed to know everyone and everyone knew them. Didn't matter where we went—grocery store, mall, post office—they were misters popularity.
A storyline began forming. Italian-American woman, too many brothers, lots of slap stick humor and awkward situations. All I needed was a body and I had my first mystery. It was (is) called Dinergirl. My hero, Olivia Carpaccio, is a free-lance writer keeping her refrigerator full working at a diner each day. It's never been published—probably never will be. While I love her, she was my first story. There are lots of rookie mistakes in the manuscript that are hard to fix. But she got me hooked on writing. I started writing to entertain myself and that's why I keep writing. With the support of a good friend, author Kyra Jacobs, I was fortunate to find a home with Entangled Publishing and bring my brand of fast-paced romantic suspense to others. My goal is to make you smile… and make the corn fields go by just a little faster. Live. Love. Laugh
until it hurts.